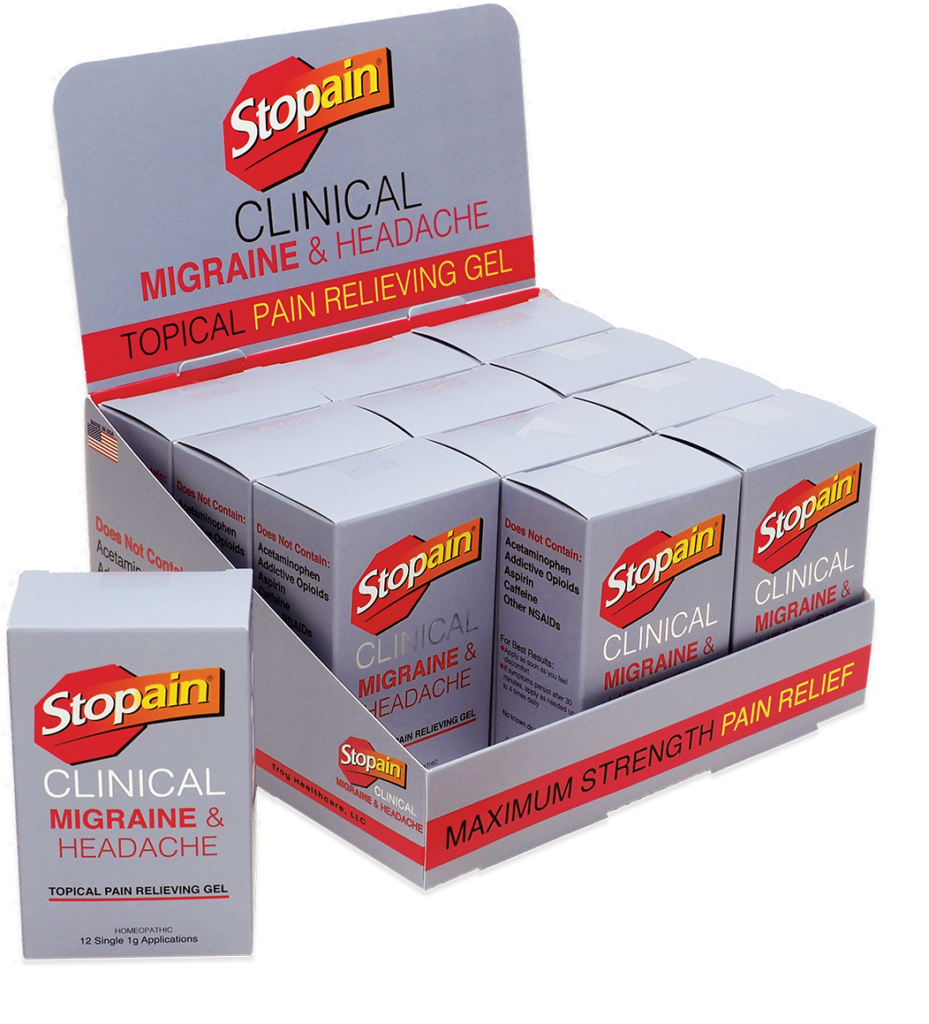 Kick Off 2021 with a

Revenue Boost
Limited Time Offer Valid Thru February 28, 2021
Receive your FREE Fully Stocked Display of Stopain® Clinical Migraine & Headache with your purchase of $79 or more on your choice of Stopain Clinical Products.
Stopain Clinical Migraine & Headache is a topical gel that provides safe & effective relief from migraines and headache pain without acetaminophen or potentially addictive opioids. Stopain Clinical is an optimized, fast acting topical with 10% menthol plus MSM & Glucosamine.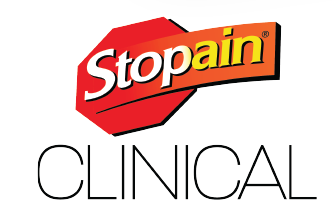 Maximum Performance Pain Relief
select from the products below, if your order reaches $79 or more, you will automatically receive your fully stocked display of Stopain Clinical Migraine & headacHE topical relieving gel.
Stopain® Clinical Gel 4 oz. Continuous Spray
$7.05
Description
4 oz. Continuous Spray
Stopain® Clinical Gel 100 x 5 gram Display
$28.75
Description
100 x 5 gram Display
Migraine & Headache Gel
$57.48
Sold as a Counter Display (containing 12 shelf boxes) Each Shelf Box containes 12 – 1 gram packets 11.99 per box
What Clients Say about Stopain®
"I love Stopain® Clinical because my patients love Stopain Clinical! Previously, we carried BioFreeze, and then it went retail, so I was happy to find Stopain® Clinical. I was thrilled to hear that our patients who loved BioFreeze, now love Stopain® Clinical even more. Their feedback is unequivocally positive. It is stronger and works better for their pain. I am happy to carry Stopain® Clinical in our PT clinics."
"Stopain® Clinical is working amazingly well for our patients. It has higher level of menthol along with MSM and Glucosamine which does wonders for aches and pains. Stopain® Clinical gel is one of the go to treatment strategies we employ regularly in our practice."
" If your desire is to help your patients control pain and make a meaningful impact providing tools to help control drug use in your community while adding dollars to your bottom line, you really owe it to yourself and your patients to check out Stopain® Clinical."